Wedding Receptions
Congratulations !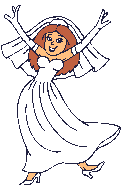 jjjjjjjj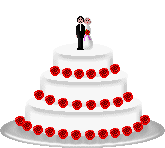 We are proud of all the very fun and successful weddings we personally hosted in 2017, and we are looking forward to may more in 2018!
OK - lets face it weddings aren't cheap, they require quite a large budget. But your Wedding Reception is probably one of the most important occasion's you will ever plan. The location, food, cake, flowers, photographer, limo service, etc. is what you will spend a large amount of your budget on. But in reality, the entertainment is what the majority of the people will be talking about long after your wedding day. This will also determine the overall success of your reception.
Even if the food is the best, the cake melts in your mouth, and the flowers smell like heaven, the only thing people will talk about well after your special day - is how good, or how bad your entertainment was. You may save a few dollars by hiring the cheapest DJ around, but there are better ways to save money without compromising your entertainment. We have personally hosted over 1,000 weddings in our 27+ years of business, that means we have the experience & knowledge to entertain you and your guests, along with our professional high quality sound & LED light show.
We will ask you to fill out a form on what you would like to do & when (I.E. Grand March, Father Daughter Dance, Mother Son Dance, etc.) then take that information & use our years of experience to keep the entire night organized and on track, so that YOU don't have to worry about organizing any of the events, - no extra charge!
Why will our Prices be relatively inexpensive?
Because I (the owner) have a part time week day job with an electronics installation company, this means I don't have to charge huge over inflated prices for the exact same quality and services as the much more expensive companies!
Please feel free to Contact Us for a price quote!
Or feel free to call us at: (715) 570 - 8054
Thank You for your time and again congratulations!
Copyright © Mobile Music Productions LLC